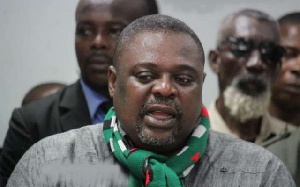 NDC's Koku Anyidoho has extolled President-elect, Nana Addo Dankwa Akufo-Addo for delivering an adept speech during the party's thanksgiving service held in Accra last Sunday.
The NDC's Deputy Chief scribe told NEAT FM's morning show host Kwasi Aboagye that he was pleased with Nana Addo's speech as President-elect.

"Nana Addo said so many things during their thanksgiving service and he spoke very well. The election is over so we must focus on nation building," he said. 

Thousands of supporters of the New Patriotic Party joined the President-elect, Nana Addo Dankwa Akufo-Addo to thank God for a successful election.

The event was held at the Accra Sports Stadium on Sunday, 18th December, 2016.

Addressing the crowd, President-elect Nana Addo reaffirmed to develop Ghana and fulfill all promises made during the campaign period.
Speaking on NEAT FM's morning show dubbed 'Ghana Montie', Koku said – "I thought it's a very health delivery from Nana Addo."

"What will we gain if this nation collapse? We will get nothing from it so we all want the betterment for this nation. We the NDC had wanted President Mahama to continue but God knows best. If Nana Addo makes education free, NDC members will also benefit from that. I pray this country do well under Nana Addo," he added

Koku was emphatic that – "The NDC will be a responsible opposition party not an irresponsible one. We will criticize the Nana Addo-led government passively."