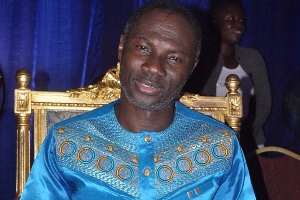 Just hours after the unfortunate demise of ebullient songstress, Ebony Reigns, one popular Prophet has come out to declare that he predicted her death.
Speaking to Kwasi Aboagye on Neat 100.9 FM, Prophet Badu Kobi, leader of Glorious Wave Church International, stated that, he told another presenter, Kwabena Marfo, also of Despite Group, in a personal conversation that Ebony had a short life – www.entertainmentgh.com monitored the chat.

"I prophecized to Kwabena Marfo of Okay FM that Ebony had a short life," he said.

According to the Prophet, he didnt make the pronouncement in Church, because of the attitude Ghanaians depict to Prophets who make such claims.

"God revealed to me that Ebony had a short life," he said.

This portal www.entertainmentgh.com also monitored as the Prophet made more claims about why he didn't make any announcement in Church;

"I would have called her in Church openly like I did SP Kofi Sarpong, after which he heard and came for prayers. I could not do same with Ebony because of the way Ghanaians react when I prophecy on such news," he disclosed.
On why he didn't make the move to make the announcement in Church, Prophet Kobi stated, that a fellow man of God called for his arrest over a similar prophecy he passed, so, he didn't want to generate another episode.

"Usually, when we come out publicly to make such calls, Ghanaians say, we do so because we only seek attention," he stated.

Kwasi Aboagye called Kwabena Marfo for confirmation, and the newscaster alluded to the fact that,he had a conversation with the Prophet, who declared that in deed, Ebony had a short life.