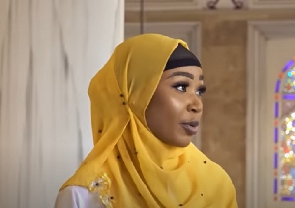 Ghanaian socialite, Rosemond Brown, widely known as Akuapem Poloo, has disclosed her desire to have another child while mentioning she regrets not getting married to her baby daddy.
In a myjoyonline.com report, the actress revealed that she met her son's father when she was young, and despite his initial promise to marry her before she became pregnant, circumstances changed, leaving her to raise her child as a single mother.

Reflecting on her experiences, the actress emphasized that she has learned from her past mistakes and no longer lives a façade on social media, now prioritizing authenticity.

"Now that I am mature and of age, I want to have another child. But I have prayed for Allah's guidance to help me get married first. I do not wish to repeat the same mistakes I made in the past when I was young. My goal is to marry before having another child, ideally within this year or the next," she expressed.

The Ghanaian socialite also shared her perspective on dating and marriage, noting that dating has proven to be more challenging than marriage itself.

She revealed that she has been in a relationship with her current boyfriend for seven years, as it has provided her with an opportunity to truly understand and study her partner before considering marriage.

"For the past seven years I have been dating, and I am still dating. The intention of not repeating the same mistakes is the reason I am dating this guy. Although I don't regret giving birth, I regret not getting married to the man I gave birth with," Akuapem Poloo explained.
According to her, enduring a long-term relationship offers valuable experience before embarking on marriage, as dating can often prove more challenging than the institution of marriage itself.

"I love the seven years because we've known each other well and I know what he wants and what he doesn't want. If I have been able to endure for seven years, I will have had experience before marriage. Nowadays, dating is even harder than marriage," she stated.

Akuapem Poloo also addressed a prevalent issue in Ghanaian society, highlighting that many girls find themselves in toxic relationships due to the devaluation of intimacy.

She cautioned Ghanaian girls to be cautious of men who use financial gestures to win their affections, only to abandon them after obtaining what they desire and encouraged young women to prioritize healthy relationships and exercise caution in their romantic endeavours.



ADA/BB