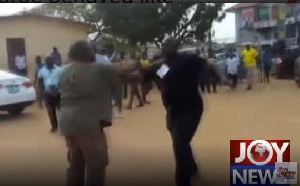 A member of the SWAT team Mohammed Sulemana who assaulted the Member of Parliament for Ningo-Prampram Sam George during the Ayawaso by-election has apologised for his actions.
Sulemana jumped off the bucket of a SWAT pickup vehicle during the Ayawaso West Wuogon by-election on January 31 and slapped the National Democratic Congress (NDC) lawmaker in the heat of the violence.

Appearing before the three-member Commission of Inquiry into the Ayawaso chaos on Friday, Sulemana said the MP first insulted him during the altercations at Bawaleshie before he responded with a slap.

However, he said he regrets his actions and asked for forgiveness.

"I'm guilty and regret what I did. I won't do that again. I know once it's from my heart he'll forgive me," Sulemana told the Emile Short Commission.
He added: "I didn't know some George. I didn't know he was an MP. If I knew I wouldn't have slapped him."

The Commission, which has been tasked to investigate circumstances leading to the violence during the by-election on late January, is wrapping up its hearings today, March 8, 2019.