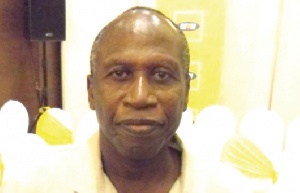 The post dramatic story of the Black Stars' involvement in the 2014 FIFA World Cup tournament still continues.

After an abysmal football display and the showcase of the love of money rather than the nation Ghana by the players, the hearts of some of the Ghanaian population still bleed due to the enormous amount involved the current standard of living in the country.


The sensitive Black Stars money issue was rekindled when the Ghana Football Association refunded the loan of $4 million they took from the Ministry of Youth and Sports on Thursday, an action that was reversed by the commission of inquiry.


GFA president Kwesi Nyantakyi who has been the centre of criticisms has been slated by Osei Kofi.


Osei Kofi, who used to be a close friend of the Ghana Football Association boss revealed how Kwesi Nyantakyi didn't want him to speak against his actions to the press because he had dashed the former Ghana national team player some cash as a friend.

The former Black Stars player also expressed his observational changes in the lifestyle of Kwesi Nyantakyi saying:


"I saw his [Kwesi Nyantakyi] shoe and coat before he became the GFA boss and I've seen the changes afterwards."


Osei Kofi further called Kwesi Nyantakyi a disgrace and likened the reign of the GFA president to the Melcom disaster, a ruling with a very poor foundation which is currently crushing down.


The Ghana Football Association have been under heavy criticisms since the Black Stars participation in the 2014 FIFA World Cup tournament with Kwesi Nyantakyi receiving most of the stick from the Ghanaian public.