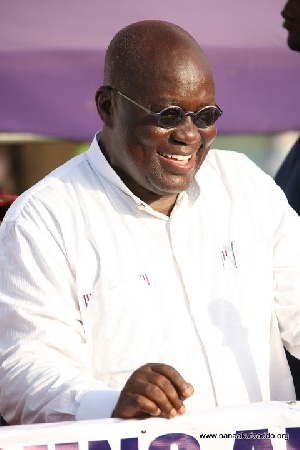 Fri, 23 Dec 2016 Source: GNA
The President-elect, Nana Addo Dankwa Akufo-Addo, on Thursday assured the people of Bawku that he would, at all times, advocate strong bond among the citizenry and remain a unifying pillar of the nation.
His said his main objective was to get all the warring factions together and supervise the unity of Bawku to put that traditional area back to its former glory as the supper economic community of northern Ghana.

Nana Akufo-Addo gave this assurance when he paid a courtesy call on the Paramount Chief of the Bawku Traditional Area, Naba Asigri Abugrago Azoka II, as part of his nationwide tour to express appreciation to the people for the confidence reposed in him to lead the country.

The President-elect said it was only fair that he responded in earnest to show appreciation to the people for their support through the ballot.

He refuted claims that when inaugurated on January 7, 2017, he would return the Bawku Skin to the Mamprusis and called on the main factions to seek peace as a unifying tool for the development of the area.

Nana Akufo-Addo gave the assurance that he would operate an open door system of administration and said what Ghana needed at this crucial moment of her history was to get the people united and bring all on board to strive for the needed development.
The Bawku Naba congratulated Nana Akufo-Addo for the victory and counselled him to be a father of all as he has promised.

He said once the President-elect assumed the highest office of the land, it behooved on him to treat all equally in order to attract more knowledgeable people to assist to run the country.

Naba Azoka appealed to Nana Akufo-Addo to endeavour to continue with all ongoing projects started by President John Dramani Mahama's Administration and mentioned specifically the Bawku-Bolgatanga road and the Tane Irrigation Project to boost agriculture and commercial activities in the area.

He said there was the need to construct the Tane Dam for irrigation purposes adding that apart from falling within the President-elect's policy of "One Village One Dam," it would prevent the migration of the active labour force to southern Ghana in search of non-existent jobs.

Nana Akufo-Addo was accompanied by his Vice, Dr Mahamudu Bawumia, Mr Kofi Adda, the Member of Parliament-elect for Navrongo Central, Mr Frank Fuseini Adongo, MP elect for the Zebilla, Madam Gabiana Gbenwa, the Bawku Central candidate of the NPP, and Mr Boniface Gambila, MP for Nabdam among other high ranking regional executives of the NPP.
Source: GNA