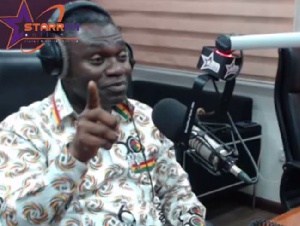 Former deputy Agric Minister, William Quaitoo, has disclosed he still consults for the Agric Ministry despite his resignation.
Mr. Quaitoo told Bola Ray on Starr Chat on Wednesday, September 13, that he was working on a coffee proposal which he left on his table but he has been asked to complete it by his former boss.

He responded in the affirmative when Bola Ray asked him if he still consulted for the ministry.

"I still think that my vision for the Agric Ministry is quite huge. When I was leaving I left everything on my table and just today my boss called and said ' I'm told you left the coffee proposal on the table, Mr.Quaitoo you have to do that thing for us complete' so I will go for it and complete it for it to be implemented for the love of Ghana. It was a proposal that was written by one of my assistants at Cocobod and it is to be reviewed by someone in the Ministry and so I will go for it and complete it," Mr. Quaitoo said.
Mr. Quaitoo resigned after an avalanche of criticism against him following his description of northerners as "difficult" people who are fond of "lying" to get what they want.

He has apologised to Northerners for his comments and described it as a slip, adding that he would never intentionally insult people he stayed with for 27 years.