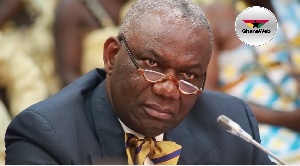 Knowing how grave it is to bear false witness against a neighbor, Member of Parliament for North Tongu, has vowed not to change his stance on the alleged bribery scandal that hit the Appointments Committee as he prepares to face a five-member committee approved by Parliament.
Hon. Samuel Okudzeto Ablakwa has sworn by the heavens not to go against God's word in Exodus 20:16, which teaches every Christian that "Thou shalt not bear false witness" as he preps for the encounter with the committee.

"This is the truth and God is my witness. I will not bare false witness, remember in the Bible that the 10 commandments speak against this. There is a grave sanction for you if you are a Christian and you bear false witness. I wouldn't tell a lie on somebody", he said.

Although Members of the House have been barred by the Speaker from commenting publicly on the issue as it amounts to contempt while the committee does its work, Hon. Ablakwa told Radio Gold in an interview on Monday, February 13, 2017 that Energy Minister designate, Boakye Agyarko, tried to bribe the Minority Caucus on the Appointments Committee when he appeared before them to be vetted.

The five-member investigative ad-hoc committee formed by Parliament to investigate the bribery scandal is expected to commence sitting on Wednesday, February 15, 2017, but Hon. Ablakwa maintains that "we are not changing our position - Hon. Boakye Agyarko sort to bribe us when he was having difficulties with his approval".

He revealed that "we received envelopes containing GHS3000 each. We met and decided at a meeting chaired by our leader, Hon Haruna Iddrisu, whom I have a lot of respect for, great leader… he agreed with all of us that let us all return the money and we all returned the envelopes."

He continued that: "What I know is that an envelope was given to me and my other colleagues and we found out that it wasn't our allowances…We heard where the money was coming from and we did our own checks and got confirmation so we decided to return it. We are not in parliament to receive any nominee's money. Our constituents didn't send us to parliament to go and receive bribes from nominees."
Earlier on, there were suggestions that the alleged bribery scandal should be referred to the Privileges Committee of the Legislative House, but the Speaker upheld the proposal for the proposed Committee to launch investigations into the issue, explaining that the allegations of corruption is beyond the reach of the privileges.

He approved the establishment of an in-house Committee after he accepted a proposal from the Majority leader, Osei Kyei Mensah-Bonsu.

The Speaker of Parliament also referred to Standing Order 191 of Parliament, stating emphatically that the order "should also put to rest whether Parliament can inquire into matter A or matter B anytime in the history of this Republic. Parliament, as the representative of the people, is empowered inherently and is recognized in this particular part of our Standing Orders to inquire into any matter from archaeology to zoology, within the republic of Ghana."

For this reason, former Attorney-General and Minister for Justice, who's also the MP for Essikadu-Ketan in the Western Region, Joe Ghartey is to lead a five-member committee approved by the house.

Magnus Amoatey, MP for Yilo Krobo, Ben Abdalla, MP for Offinso South and B.T. Baba, as well as Ama Pomaa Boateng, MPs for Talensi and Juben constituencies respectively are also committee members.

They have been given 4 weeks to ascertain the truth or otherwise of the scandal and submit its report to the House.