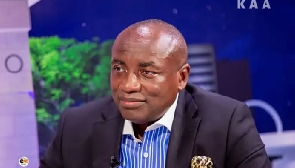 New Patriotic Party (NPP) presidential hopeful, Kwabena Agyapong has said that he is surprised about the issues that are coming up regarding the construction of the National Cathedral of Ghana.
According to him, the fact that the government is bent on using state funds for the Cathedral project is surprising.

Speaking in a JoyNews interview, on Tuesday, February 21, 2023, Agyapong added that President Nana Addo Dankwa Akufo-Addo did not give any indication that state funds will be used for the project.

"I'm surprised about issues about the National Cathedral. I thought it was a private project… when the president said that I thought he was going to call on us Christians to make contributions.

"We (Christians) have been building our own Cathedrals… So, I think that if the president calls on us Christians, we can make contributions so that we don't need to take money out of our budget.

"We are stressed enough, dealing with the difficulties that we are facing," he said.
Kwabena Agyapong, a former general secretary of the NPP, said that there should be a National Cathedral just like there is a National Mosque but this Cathedral should be funded by Christians just as the Mosque was funded by Muslims.

"I will like to see a National Cathedral, there is a National Mosque but by we the Christians. I want to call on the adherents of the Christian faith to contribute to that (the Cathedral) so that the government can take itself out of it," he said.

Watch the interview below:


I thought the National Cathedral was a private project - Flagbearer hopeful, NPP, Ing. Kwabena Agyei Agyapong. #AMShow pic.twitter.com/xvTM1HWgvM

— JoyNews (@JoyNewsOnTV) February 21, 2023
Meanwhile, catch the latest GhanaWeb TV Election Desk interview with Francis Addai-Nimoh, as he discusses his plans to become the NPP's flagbearer, below:




You can also watch this episode of People & Places on GhanaWeb TV below:



IB/