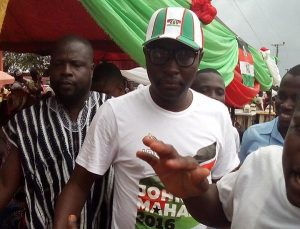 Broadcast Journalist and host of 'Pampaso' on Accra-based Montie Fm Salifu Maase affectionately called Mugabe, says he has attained the main rationale for his  public outburst directed at the ruling National Democratic Congress (NDC) and its functionaries on Wednesday afternoon.
He has also denied stating anywhere that President John Dramani Mahama will lose the December 7 polls as reported by sections of the media.

Responding to the issue on Abusua Nkomo hosted by Kwame Adinkra, he stated "as at yesterday by 10am, a lot of adverts flooded the station following my outburst and I am satisfied".

According to him, it was hurting seeing other media outlets play adverts for the NDC while Radio Gold and its affiliates that have over the years committed to projecting the developmental projects of the current government are relegated to the background.
Mugabe denied ever stating anywhere during the programme the NDC will lose the December polls and therefore describe publications to that effect as pure falsehood by the writers.

"Mahama will lose power and give power to whom? Mahama is not handing power to anyone but   to himself because of his good works that have been appreciated by the country. I have personally printed 2,000 T-shirts and embarking on a nationwide campaign to project him", he revealed.

He advised media houses who are twisting his message to rather use that opportunity to project their candidates stating that negative stories about him only end up projecting him (Mugabe) instead.