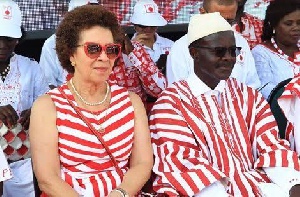 The Senior Vice President of Group Ndoum, Mrs. Yvonne Nduom has revealed that she has on several occasions asked her husband, Dr. Kwesi Nduom to quit politics.
Mrs. Nduom, however, revealed that her husband is adamant and not willing to quit politics anytime soon.

Speaking to host of Morning Starr Francis Abban Tuesday, Mrs. Nduom said she has no qualms about her husband political ambitions but longs for the day he will finally quit.

"I told him, I didn't like politics but as I have told people on other platforms he is very political and he started when he was very young. He was writing political stories…he was reading and writing political comments but you know he believes in service, he believes in nobility and service.

"I have said several times [to quit politics] but it is like this is what he wants to do…but it is his life just because we are married doesn't mean he can't pursue something that he is interested in. When the time comes and it is like I am done well I am still here," Mrs. Nduom said.

Dr. Nduom has been tagged a serial loser by his opponents after he lost the presidential elections on three occasions.
He lost once when he contested the presidency on the ticket of the Convention People's Party (CPP) and twice on the ticket of the Progressive People's Party (PPP), a party he founded after quitting the CPP.

He is likely to contest the 2020 presidential election on the ticket of the PPP.



Mrs. Nduom was in February this year named the Best Woman Entrepreneur of the Year 2017.

The Award is bestowed on a successful entrepreneur who has demonstrated entrepreneurial vision, business excellence and innovation.
Mrs. Nduom was chosen from a short-list of other highly qualified Ghanaian private sector practitioners by the Entrepreneurs Foundation, organisers of the Ghana Entrepreneur & Corporate Executive Awards 2018.