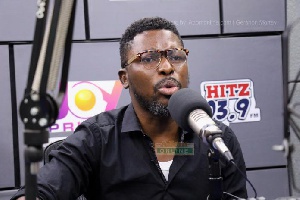 Controversial musician Kwame Asare Obeng popularly known as A-Plus has touted his capacity to gather crucial information on happenings in Ghana saying his ears are on the grounds even more than the Bureau of National Investigation (BNI).
According to him, he has a wide radar and so "sees and hears everything that goes on in the country no matter how secured where it happens maybe".

A Plus last week alleged that the Bank of Ghana will be using about 5-months to destroy the new Ghana cedi notes which were printed under erstwhile John Mahama's government.

He claimed that some of the notes are brand new in containers which are yet to be cleared from the port.

He wrote on his Facebook timeline that, "the Bank of Ghana (BoG) has already spent one-week destroying new cedi notes printed by the previous government but has not succeeded in destroying 10 percent of the total sum which has to be destroyed."

Speaking on Neat FM on a wide range of issues, A Plus who's a sympathizer of the ruling New Patriotic Party (NPP) urged the BNI to collaborate with him so he can relay useful information to them.
"On Friday I released a list when the meeting was ongoing at the Bank of Ghana the boys were sending me videos of the proceedings. I hear everything that goes on in this country, not long ago I told the BNI to collaborate with me so that whenever I have information on activities that have the potential of destabilizing the country I'll relay to them. People send me all sorts of information every time. I'm on the grounds and I hear even more than the BNI.

He added: "Before they went searching for NAM 1 in Dubai they asked me if I'm sure he's there because that day I had spoken to him earlier in the morning. I hear everything that goes on in this country, nothing goes on without my knowledge of it."

"Recently, a guy went to collect money from the Jubilee House. While he was counting the fresh notes I could hear the sound of it in my ears while at home, and that guy is the same person who goes on-air and insults President Akufo Addo."