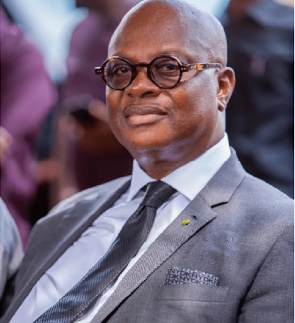 Kojo Bonsu, a former aspirant for the National Democratic Congress (NDC) flagbearer position, recently made a candid revelation about not having had the opportunity to attend a university.
In an interview with Citi TV, Mr. Bonsu attributed this circumstance to the profound impact of his mother's untimely death on his educational journey.

After completing his Ordinary Level ('O' Level) education at Tamale Secondary School (TAMASCO) between 1974 and 1979, he pursued his Advanced Level Certificate ('A' Level) at Drayton School in London in 1981.

During the interview, Mr. Bonsu honestly shared, "I've never been to the university before. Never. I only pursued diploma courses."

Following his secondary education, Mr. Bonsu embarked on a professional career that began at the renowned sports kit manufacturers, Adidas, and later included positions at various other organizations. Alongside his professional endeavors, he pursued diploma courses intermittently.

This disclosure sheds light on Mr. Bonsu's educational background, highlighting his notable career achievements despite not possessing a university degree.
Throughout the Citi TV interview, Mr. Bonsu warmly recalled memories of his late mother, who served as the sole provider for their family. He expressed deep sadness over her passing and conveyed his profound admiration for her and the opportunities she had provided.

Additionally, Mr. Bonsu revealed that his highest educational qualification is a Diploma Certificate in Podiatry Assistant.

When asked about his plans for furthering his education, he responded humorously, remarking, "At this age? I'm an old man now."

YNA/OGB