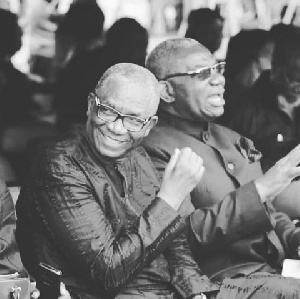 Lydia Alhassan and Naana Agyarko, the two wives of the late Member of Parliament for Ayawaso West Wuogon, Emmanuel Kyerematen Agyarko, have denied media reports they are battling for their husband's vacant parliamentary seat.
There were report that the two widows of the late lawmaker are in a battle for his seat – even before his burial.

Some youth of the constituency on Monday, 10 December 2018 presented a petition to officials of the New Patriotic Party (NPP) at the party's headquarters against Lydia Agyarko, Mr Agyarko's second wife, who has decided to contest in the by-election.

They claim that the first wife, Naana Agyarko should be allowed to contest for the seat.

But a statement issued by Ms Lydia Alhassan on Tuesday 11 December 2018 said:

"My attention has been drawn to some news publications making the rounds that I and my elder sister Naana are engaged in some sort of struggle over the parliamentary seat of the departed Member of Parliament for the Ayawaso West Wuogon constituency."

"I wish to clear the air and state that I have not expressed an interest in the upcoming bye elections in the Awayaso West Wuogon constituency. I have remained in a deep state of shock and mourning following the sudden demise of the father of the seven beautiful children of E.K, five of which I bore with him."
"I believe I can say same for Naana and her beautiful and kind-hearted Jane and Sonny. Why anybody would want to do this to a family in mourning beats my imagination."

"Yes, several members of our party and the constituency in general have approached to suggest that I consider the idea and my response to them has remained the same; that I be allowed to bury the father of my children in peace and that the time is quite inappropriate for me now to engage in such discussions."

"I have also encouraged all to take the matter of the bye election in our constituency to the Lord in prayer."

"I have heard of agitations from sections of the constituency for my candidature and I have sought to discourage those actions, believing that at the right time the rank and file of the party shall decide on a candidate that we should all support."

"I appeal to the NPP family to tone down on the politics a bit in honor of a man who sacrificed and paid his due to the party at this time as the family prepares for a befitting burial. Let us join the family to mourn a brother, a father, a husband, a gentle soul who loved humankind extremely."

LYDIA ALHASSAN.