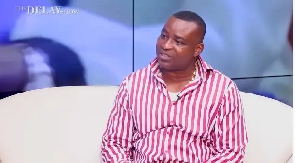 The Ashanti Regional Chairman of the New Patriotic Party (NPP) Bernard Antwi Boasiako, known as Chairman Wontumi, has revealed that he had to bring his children back home from the United Kingdom (UK) because there is unbearable hardship there.
"There is too much hardship in the UK. As I speak to you, I have brought them all to live in Ghana because Ghana now is better than the UK", Chairman Wontumi said on Movement TV in an interview monitored by MyNewsGH.com.

He added that all his children are UK citizens but he had to take that tough decision.

According to him, there is no place under the sun, where there is no hardship, especially after the outbreak of the pandemic COVID-19 and the Russia-Ukraine War that saw a low supply of world's grain products from the west.
Chairman Wontumi made this comment while advising Ghanaians not to look down on the peace and good living they have under the current President Nana Addo Dankwa Akufo-Addo.

"What we are pleading with Ghanaians is that there is hardship everywhere in the world. I gave birth to my children in the UK but as I speak to you, I have brought them all to live in Ghana because Ghana is now better than the UK." Chairman Wontumi emphasized this in his interview.

"My advice to Ghanaians is that, if we don't take care a day will come we are going to lose the place we are", he stressed