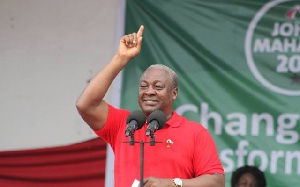 President John Mahama has told residents of Kyebi in the Eastern region that their town was being starved of development until he ascended the Presidency.
According to him, Kyebi, which is the hometown of the NPP flagbearer Nana Akufo-Addo, had been ignored by governments ever since the main Accra-Kumasi Highway was diverted from the historical town.

Addressing a rally in Kyebi as part of his campaign tour of the Eastern region, the President said he promised to fix the deplorable roads in the town even before he assumed the presidency, and he has delivered his on his words.

" I attended a funeral at the Palace sometime back and I noticed the roads are bad. In fact, ever since the main Accra-Kumasi Highway was diverted out of Kyebi, governments have forgotten about this important town.

"So I said to myself that if God helps me to get into power, I will fix the road, and true to our promise, we have constructed the road out of the cocoa roads project fund that we created," Mr. Mahama stated.
He also mentioned the newly commissioned water project as one of the many projects that his government has embarked upon in the town.

The President earlier paid a courtesy call on the Okyenhene Amoati Ofori Panin and his elders at the Ofori Panin Fie.

Former deputy tourism minister and MP Owuraku Amofa is the NDC's parliamentary candidate in the constituency.