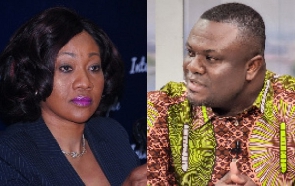 The New Patriotic Party (NPP) Member of Parliament (MP) for Afigya Kwabre North, Collins Adomako-Mensah, has slammed the Electoral Commission of Ghana (EC) over its decision to hold its ongoing limited voter registration exercise at its district offices.
According to him, the EC took the decision even though it was advised against it by all the political parties that are part of the Inter-Party Advisory Committee (IPAC) including his party, the NPP.

He added that because of the decision of the EC, he has had to send 1000s of Ghana cedis to transport some of his constituency to the district office to get them registered.

"The EC is supposed to be independent but it must know that it is working for the people of Ghana. So, even if the law says you to be independent, whatever you're doing should be for the betterment of the Ghanaian people.

"You went to an IPAC meeting and all the political parties there, including my party, were against EC having the registration at just one centre… Why should I be busing people from town to town just to come and register? Why?" he quizzed.

He further stated "My point is that even if you cannot expand the registration centre, increase the number of machines. So, that at every point in time, 10 or 15 people would be registering. If you think it is too expensive to expand the centres, increase the machines. I don't see why as an MP, I should be spending GH¢20,000, GH¢30,000 just to convey people from one end to the other".
The Afigya Kwabre North legislator said that what makes matters worse is that some of the registration machines of the EC do not function properly.

He added that because not all the people at the district office can be registered for a particular day, some of them have to be transported multiple times to the centre.

Watch the interview below:



BAI/NOQ


You can also watch this episode of People & Places on GhanaWeb TV:

 

Ghana's leading digital news platform, GhanaWeb, in conjunction with the Korle-Bu Teaching Hospital, is embarking on an aggressive campaign which is geared towards ensuring that parliament passes comprehensive legislation to guide organ harvesting, organ donation, and organ transplantation in the country.