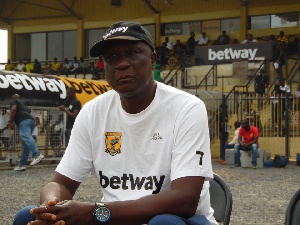 Former Asante Kotoko head coach Bashiru Hayford has revealed that he had wanted to make current Black Stars coach, Charles Kwablan Akonnor as his assistant coach at Asante Kotoko.
The Head Coach of the Somali National Team states that he was in dire need of an assistant when he was with Asante Kotoko and identified C.K. Akonnor but he declined the request to join Asante Kotoko stating that he was not ready at that time.

In an interview with Ashh FM, the two time Ghana Premier League winner thinks C.K. Akonnor has risen steadily and meritoriously on the coaching ladder and deserves to be where he finds himself today.

"When I was in Asante Kotoko, I had wanted to make C.K. Akonnor my assistant coach but he told me he was not ready at that time through Alhaji Lamine before I decided to drop that idea," the controversial gaffer said.
"I was so desperate to get him but it did not work. If God has risen him to this level, I don't know if it is by luck, it is good," he added.

Bashiru Hayford last coached the Senior Women's National Team, the Black Queens in Ghana in the AFCON Women's Championship held in 2018 in Ghana before moving out to Somalia.