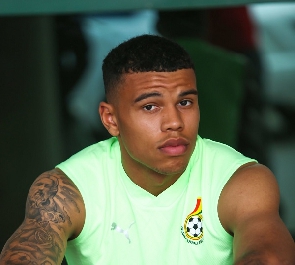 Black Stars player, Ransford Yeboah Koniigsdoffer has expressed disappointment after he was dropped from Ghana's squad at the 2022 FIFA World Cup in Qatar.
Ransford Yeboah Konigsdoffer who switched nationalities from Germany to Ghana had hopes of playing for the Black Stars at the 2022 World Cup.

However, the player was left out of coach Otto Addo's final squad for the tournament.

Speaking on the issue for the first time in an exclusive interview with GhanaWeb, Ransford Yeboah Konigsdoffer said although he felt sad about being dropped, he will work hard to earn a call-up in the next edition.

"I was very disappointed but I will do my best and when I don't get a call-up I must train harder to do my best at the next World Cup tournament," Ransford Yeboah Konigsdoffer told GhanaWeb.

In his interview with GhanaWeb's Joseph Adamafio, the 21-year-old admitted that he grew up watching the Black Stars play at many tournaments and wants to be able to represent the country at such tournaments as the AFCON and World Cup.
"I watch every tournament; I try to watch every time. The last African Cup wasn't our best. For the World Cup our best was in 2010 when we got knocked out by Uruguay," he told GhanaWeb.

Watch Sports Check with Black Stars player Ransford-Yeboah Königsdörffer below



JNA/WA