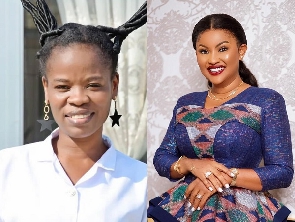 Radio presenter, Ohemaa Woyeje was shocked to the bone when news of Nana Ama McBrown's exit from Despite Media to Media General was made public, a move she never expected.
The media personality with over 20 years of experience explained that Despite Media where McBrown worked as the host of United Showbiz, made the popular actress their queen and face of their television station.

Ohemaa Woyeje was quick to add that McBrown's decision to move to Media General must be respected although many never expected it.

"The news came as a shock to me and I was very surprised. I never imagined that McBrown could move from UTV, never...she looked very glamorous and commanded so much respect. I don't know if Despite handed over that power or if her brand spoke for itself.

"I saw her as the queen of the Despite Media, UTV and so I didn't see it coming. Her exit was a big surprise," Ohemaa Woyeje told Zionfelix in a March 2023 interview.

On March 13, McBrown in an Instagram post announced that she has joined a new family, Media General. She was treated to a grand unveiling party with her new colleagues who welcome her with open arms.


Watch our latest programmes below:







OPD/BB