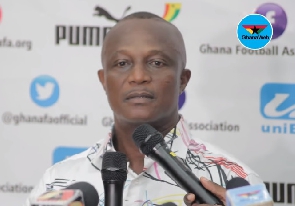 Former Black Stars coach James Akwasi Appiah has recalled a hilarious moment during his playing days as a footballer with Kumasi Asante Kotoko.
The former Black Stars skipper was recently replaced by CK Akonnor as head coach of the senior national soccer team.

Speaking on TV3's New Day show, ahead of his book launch 'Leaders Don't Have To Yell' on January 31, 2020, the former Black Stars coach recalled a game between Asante Kotoko and Real Tamale United at the Kaladan Park, where he tried to pull a stunt by faking an injury but got busted and thrown off the pitch by the angry opposing supporters.

"During a game against Real Tamale United (RTU) during my playing days as a player with Kumasi Asante Kotoko in a game in which we were leading by two goals to one with five minutes to go I was about clearing a ball when my opponent stepped in, forcing the ball out of play.
"These were the days when the pitch was not proper sand so I feigned an injury and stayed on the ground."

According to him, supporters of the opposing team came onto the pitch, lifted him and threw him off the pitch for play to continue.

He added, "I ran back on the pitch immediately to continue to play".