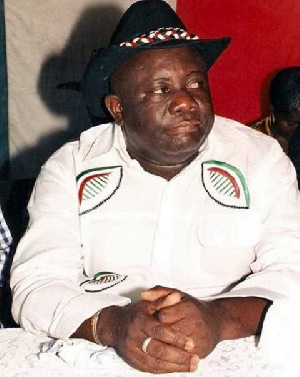 Former Ejisu\Juabeng Municipal Chief Executive, Afrifa Yamoah Ponkoh has revealed that he showed tribalism in the discharge of his duties while in office.
According to the tough-talking politician, he did that on the blind side of his appointing authority.

"If you're in such position, there are certain things you can't do anymore. But it's no secret that, that act of favouritism, nepotism, tribalism and all those things, you can play those cards but on the quiet. When I was holding a particular position in government one way or the other, I was tribalistic and I did several things. But I did them on the blind side of my employees or if you like of the President. Several people are guilty of this behaviour but you pay the price for it if you act on it publicly and you're found out," Yamoah Ponkoh told Okay FM Friday, November 3, 2017, while commenting on the divisive comment of Ghana's High Commissioner to South Africa, George Ayisi Boateng.

The diplomat in a meeting with New Patriotic Party (NPP) students stated that his main priority is party supporters when it comes to providing jobs.

"The job market is choked and it is highly competitive and this government is doing its best to create job opportunities [but] me, for instance, I told my people that it is NPP that is why I am in power so NPP man is my priority.
"My topmost priority is the problem of an NPP person before any other Ghanaian, take it or leave it and indeed I am not boasting," Mr Boateng told members of the NPP student wing, the Tertiary Students' Confederacy Network (TESCON). The comment angered most Ghanaians including the Minority who are calling for his head. The envoy subsequently rendered an unqualified apology.

Yamoah Ponkoh, commenting further on the matter roundly condemned Ayisi Boateng's utterances saying a diplomat should have exercised a lot of circumspection in his speech.

He said if President Akufo Addo will go by his oath of office sworn he has no moral justification to be keeping Mr Ayisi Boateng still even though the latter has rendered an apology which many consider insincere.

"The President should replace him, I've worked with Ayisi Boateng as Management team member of Kumasi Asante Kotoko and I know he's capable of doing other things than being an Ambassador." Yamoah Ponkoh added.