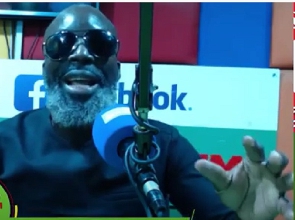 Prophet Kumchacha says he will cancel the free education policy of the governing New Patriotic Party when he is elected President of Ghana.
According to Kumchacha, who has announced his intention to contest the Presidential race in 2024, the free Senior High School programme is a huge burden to the government, therefore compelling government to seek help from the International Monetary Fund (IMF).

He asserted that, under his administration, every parent or guardian will pay school fees.

"I will cancel free education. I will cancel free education because it has locked up money, so it always makes government suffer...When I come into power, the free education will no longer exist; every person will pay school fees", he revealed on Saturday during UTV's "United Showbiz".
Further sharing his manifesto on the show, Prophet Kumchacha stated that he will also ensure that no tenant is charged a 6-month or 2-year rent but rather tenants will pay rent on monthly basis.

Prophet Kumchacha named his party the Kum People's Party (KPP) and noted that he is very prepared to give the political parties going into the 2024 elections a run for their money.

He added that he will soon disclose his Running Mate and begin a rigorous campaign to win next year's general elections.