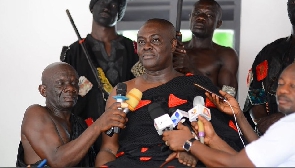 The Dormaahene, Osagyefo Oseadeeyo Agyemang Badu II, has warned persons fuelling the chieftaincy dispute in Bomaa after he had installed a chief for the traditional area.
Osagyefo Agyemang Badu II said that nothing will force him to rescind his decision on the person he has chosen to be the Bomaahene, graphic.com.gh reports.

He added that any person who challenges the authority of the Bomaahene, he has installed will face his wrath.

"I have installed someone as Bomaahene, period, it can't change. If you dare that person's authority, I will fight you till I lose my last blood," the Dormaahene is quoted to have said at a press conference in Sunyani on Wednesday.

He also called on the Ghana Police Service to investigate how a 40-year-old teacher was killed during a clash by different factions after he installed the new chief of Bomaa.
The clash ensued after the chiefs and some people in the area challenged claims by Osagyefo Oseadeayo Agyemang Badu II, stating that the Bomaa area is under the Dormaa paramountcy.

According to the chiefs and the people they owe allegiance to is Asanteman and therefore will continue their allegiance to the Asantehene, Otumfuo Osei Tutu II.

The chiefs recently called on the Asantehene, Otumfuo Osei Tutu II at the Manhyia Palace in Kumasi to pledge their continued allegiance.

IB/SARA