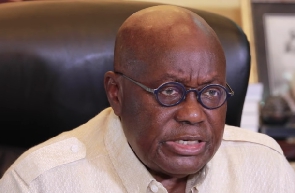 A 2012 tweet made by Ghana's sitting president, Nana Addo Dankwa Akufo-Addo, has re-emerged online.
The tweet, which was made when he was still seeking to become president, was on the subject of corruption.

In addressing what is believed to have been the situation with respect to corruption at the time when the late John Evans Atta Mills, was president, candidate Nana Akufo-Addo said that should he be president, he would institute stronger measures to curb the menace.

He also used an analogy where he said his measures would be more expensive for criminals than it would be for someone who steals, for instance, a goat.

"I will introduce stiffer punishments for corruption to make the theft of state funds more expensive for the criminal than stealing a goat," his tweet from June 8, 2012, said.

Since his assumption of office as President of Ghana, Nana Addo Dankwa Akufo-Addo's government has been labelled with a lot of major corruption claims and allegations, many of which have been unresolved.
In a number of such cases, the president has not, in the estimation of many Ghanaians, cracked the whip as is required.

One such instance is the recent allegations of corruption and conflict of interest leveled against Rev. Victor Kusi Boateng, Secretary of the Board of Trustees of the National Cathedral of Ghana.

The allegations, mostly being spearheaded by the Member of Parliament for North Tongu, Samuel Okudzeto Ablakwa, include such claims that he has multiple identities and that a company linked to him, JNS Talent, received an amount of $2.6 million from the government for no work done.

Rev. Kusi Boateng has since denied the claims.

President Akufo-Addo, on the other hand, has yet to issue any directives or statements on the raging issue.
See the 2012 below:


I will introduce stiffer punishments for corruption to make the theft of state funds more expensive for the criminal than stealing a goat.

— Nana Akufo-Addo (@NAkufoAddo) June 8, 2012
AE/BOG