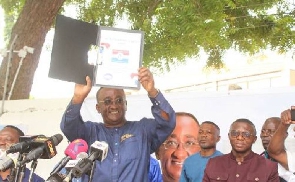 A former Minister of Food and Agriculture and a flag­bearer aspirant of the New Patriotic Party (NPP), Dr Owusu Afriyie Akoto says he will use pro­ceeds from agriculture to reduce the country's ballooning debt when given the nod as President.
He said his administration, would prioritise agriculture by injecting massive resources into the sector as well as develop the supply chain in the sector to make it vibrant and effective.

Dr Akoto said this when he received his nomination form to contest the NPP presidential primaries at his campaign office in Accra yesterday.

The nomination form was picked and paid for by a group known as "Friends of Dr Akoto" at a cost of GH¢50,000 at the party's head­quarters in Accra yesterday.

He mentioned that focus on cocoa, cashew and café, among others were capable of paying off Ghana's debt through good man­agement.
He assured Ghanaians of using agriculture to attain the status of a first-class economy through a new­ly created Agricultural Management Team (AMT) chaired by himself, as President, to drive the agricultural development, in addition to the Economic Management Team to be headed by the Vice President.

"The AMT shall comprise seven Agric-related Ministries, name­ly: Food & Agriculture, Finance, Trade and Industry, Lands and Natural Resources, Transport, Local Government and Rural De­velopment, and Environment, Sci­ence, Technology and Innovation. This is expected to improve supply chain logistics and expand market access, infrastructure projects such as feeder roads, hospitals, housing, rural electrification, irrigation and storage," Dr Akoto said.

Dr Akoto however, urged Gha­naians to discredit recent polls that put his opponents ahead of him in the upcoming NPP presidential elections.