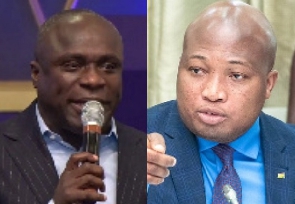 Secretary to the Board of Trustees of the National Cathedral of Ghana, Rev. Victor Kusi Boateng, has hinted that he will take action with respect to deliberate defamation targeted at his person by a lawmaker.
Rev. Kusi Boateng said he was currently committed to responding to a formal enquiry in respect of allegations made against him by Member of Parliament for North Tongu, Samuel Okudzeto Ablakwa.

The MP mentioned the clergyman in his 'Mother of all scandals' publication on January 16, 2023, alleging principally that Kusi Boateng was using two different identities on official documents.

He had earlier on alleged that an amount of GH¢2.6 million was 'irregularly' paid out from the chest of the National Cathedral to JNS Talent Centre, a company closely associated to Kusi Boateng.

In his response to the accusations, the clergyman stayed away from directly addressing the identity issue but said he welcomed the enquiry by the Commission on Human Rights and Administrative Justice (CHRAJ), following the lodging of an official petition by Ablakwa.

Kusi Boateng's statement of January 16, 2023 added: "When all is done, I will seek redress against Mr. Ablakwa for his deliberate defamatory statements against me.
"I will continue to contribute my quota to the National Cathedral project and offer my services to the country to the best of my ability," the statement concluded.

Read the full statement by Kusi Boateng below:




SARA/DO