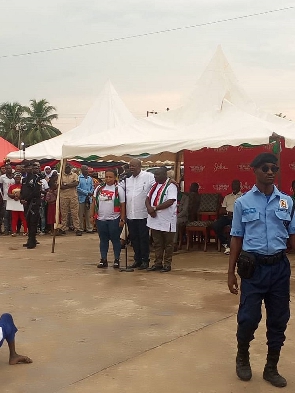 Aspiring National Democratic Congress flagbearer, John Dramani Mahama has disclosed that he is ready to work with whoever delegates elect as their parliamentary candidate for Ahanta West constituency.
He uttered those words whiles addressing the branch and constituency executives at Agona Nkwanta during his 'building the Ghana we all want together' campaign on March 24, 2023, which sought to canvas votes from delegates for the upcoming presidential primaries.

According to the former president, both parliamentary aspirants are his children and party members. He urged delegates to vote peacefully and charged whoever loses to support the winner since when one goes to parliament, the other can be given work (appointment) when the NDC takes the mandate in 2025.
The former president was accompanied by the former chief of staff, Hon Julius Debrah, former CEO of Ghana Gas, Dr. George Sipa-Adjah Yankey, NEC executive member Mrs. Araba Tagoe, Prof. Joshua Alabi, uncle Totobi Kwakyi and the Western Regional Chairman, Nana Toku.