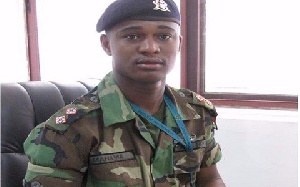 The District Chief Executive of Upper Denkyira West District in the Central Region, Agyeman Asiedu, is pleading with Ghanaians to cease commentary on the gruesome murder of the late Major Maxwell Adam Mahama.
He is also urging the chiefs and people of Denkyira Obuasi (New Obuasi), where the soldier was killed, to also halt a planned commemoration of the day since it brings back the bitterness in late Mahama's family, families of persons standing trial for the murder and the general public.

Exactly two years ago today, on Monday, May 29, 2017; Major Maxwell Adam Mahama was lynched by a mob at Denkyira-Obuasi in the Central Region.

News of his grisly killing went viral the next day shocking the entire nation. The incident attracted round condemnation, resurrecting the debate about the culture of mob justice in the country.

The town of Denkyira-Obuasi also gained notoriety as history of the town's past violent activities were replayed much to the chagrin of the public.

Major Mahama was an officer of the 5th Infantry Battalion and was on official duty in the area when he was attacked by a mob while on his routine jogging exercise with trump up claim that he was an armed robber.
Speaking in an interview with Onua FM's Yen Sempa on Wednesday hosted by Bright Kwasi Asempa, the DCE, Mr. Agyeman Asiedu said "I wish we don't talk about that incident again because some are still in prisons".

"The families, their mothers, children, fathers, uncles are still in the town so if we do anything to remember that day, we bring back that bitterness and those in prisons are also bitter", he explained.

Mr. Agyeman Asiedu said "it has brought bad name to us and it rekindles the bitterness and bad name".

He explained that the bad name can cover the good things the government is doing in the District.

"If we are doing anything good, that bitterness can be rekindled. I wish we don't talk about it again but the town belongs to the chiefs so if they have anything doing, I can't stop them, but we as an Assembly, we have not plan anything", he explained.