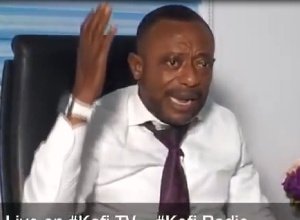 Founder of the Glorious Word Power Ministries, Rev. Isaac Owusu Bempah, has maintained that the Apostle General of Royal House Chapel International, Rev Sam Korankye Ankrah, is "truly a womanizer" and that he will not apologise for stating a fact.
The 'Nation's Prophet's' damning comment follows calls on him by the Ghana Pentecostal and Charismatic Council (GPCC) to apologise to Rev Kuranchie Ankrah for accusing him of bleaching his skin and also 'chasing anything in skirt'.

"The Apostle General has not resided in or attended any of the places and schools Rev. Owusu Bempah mentioned in his reaction. Those who know the Apostle General'sfamily know that three out of his four children are fair. Does it mean that he injects and gives tablets to his children also to give them their fair colour? As for the accusation of sexual impropriety, that must be a figment of Rev. Owusu Bempah's imagination," the Ghana Pentecostal and Charismatic Council said in a statement released Thursday.

"While admitting that the Apostle General is human, we of the leadership of the Ghana Pentecostal and Charismatic Council can vouch for his sexual and moral integrity and therefore challenge Rev. Owusu Bempah to name and/or produce the many girlfriends he claims the Apostle General is keeping," it added.

However, speaking on Atinka Evening News Thursday, Rev. Owusu Bempah, called the bluff of the GPCC saying, "I won't apologise to Kuranchie today or tomorrow".
He further accused the GPCC of double standards since it failed to rebuke Sam Kuranchie for "making similar or worst comments" which elicited his (Owusu Bempah) response .

"Sam Kuranchie said pastors who bleach their skin are fake prophets but the GPCC is quiet about it. Even though I have not bleached my skin, preaching the word of God is not about colour; you cannot determine the colour of Moses or Elijah," Rev Owusu Bempah said.

"…Sam Kuranchie is truly a womanizer and I won't apologise for stating a fact," he fired.