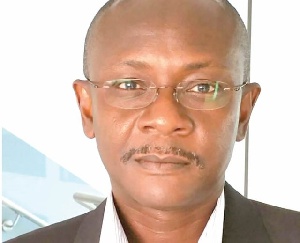 The Director-General of the Ghana Broadcasting Corporation (GBC), Dr. Kwame Akuffo Anoff-Ntow has refused to adhere to a directive from the GBC Board to proceed on leave, arguing that, it is only the National Media Commission (NMC) which can alter his terms of appointment.
Dr Anoff-Ntow was asked to proceed on leave for poorly handling issues concerning TV license.

He singlehandedly caused the establishment of courts to prosecute defaulters of the licence fee. The compulsory TV license fee and the move to prosecute defaulters was strongly opposed by majority of Ghanaians with government taking the flak.

But Dr Anoff-Ntow, in a letter addressed to the Board Chairman drew the Board's attention that under his terms of contract, it is the NMC which is the only body with the authority to appoint and alter his terms of appointment.
To this end, Dr Anoff-Ntow said he cannot act on the Board's directive until the NMC tells him to do so.

Meanwhile, the Ghana Journalist Association (GJA) described the move by the GBC Board to ask Dr Anoff-Ntow to proceed on leave as unconstitutional and called on the NMC to intervene.