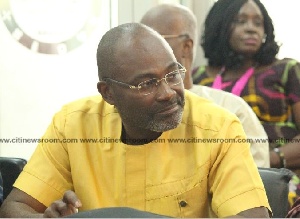 New Patriotic Party (NPP) firebrand, Kennedy Agyapong has defended his decision not to go on television or radio to defend the party as was in the case weeks ago insisting that it is meant to redeem his image and would therefore not back down on his latest resolution.
The lawmaker disclosed in an interview that he is consistently being disrespected, disgraced and verbally abused by persons who are below him just because he took it upon himself to defend the party insisting it is time he took a bow to create an opportunity for others.

He explained that speaking for the party on media platforms is not the only way he can contribute to its growth pointing out that there are other areas he could support in making the NPP a force to reckon with.

"I speak and they disrespect me .I want to pull off myself from the too much talking so that when someone is approaching me he will know that I am also a respectable and dignified person. I need to regain my respect because people are denigrating me. I have slept over the development and realized that my defense for the party is the reason I am being disrespected. I still maintain that I am not going to talk again. Not on politics", he revealed in an interview monitored by MyNewsGh.com.
The lawmaker explained that he will not speak on politics but social issues that are of great concern to Ghanaians and continue with his philanthropic gestures to persons who need them especially the less privilege in society'

"I will speak not on politics but on social issues and will still continue doing good to all manner people who need support based on my strength. I won't stop the philanthropic work but to wake up at dawn to go and speak on Television or radio stations is what I am stopping. I want Ghanaians to see that I am more of a gentleman when not on radio or television", he disclosed.