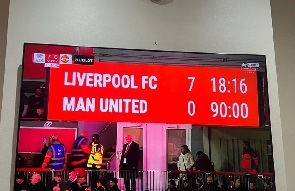 The International Central Gospel Church (ICGC) appears to be trolling Manchester United over the 7-0 defeat to Liverpool in the Premier League.
The church on Wednesday, March 8, 2023, conducted a poll in which it asked respondents "how many days did God use to the world".

Among the options was 'Man Utd' which invariably refers to seven days. The tweet was a creative piece by the admin of the church's Twitter handle to introduce a 'religious joke' to an ongoing banter on social media, triggered by Liverpool's 7-0 thumping of Manchester United.

Liverpool inflicted on Manchester United their heaviest defeat in Premier League history with a 7-0 victory at Anfield.

Egyptian winger Mohammed Salah, Dutch forward and Uruguay's Darwin Nunez scored a brace each with Robert Firmino completing the mortification in the 88th minute.

In his post-match presser, Manchester United coach Erik Ten Hag laid into his players and questioned their attitude and motivation for the game.
"It's 3-0, as a team you stick together. We didn't do that. I'm surprised to see this from our team, I don't think it's us, I don't think it's Manchester United," a downcast Ten Hag told a press conference.

"After halftime, so quickly we gave the game away. We made bad decisions on the ball, how we anticipate, how we concede the goal," he said. "The third [goal] was a counter and we were so unprofessional with our decisions, running away, giving the space away, not tracking back."

Despite the defeat, Manchester United still rank third on the league table with 49 points from 25 games.

Liverpool on the other hand have jumped to sixth on the league with 45 points from 25 games.