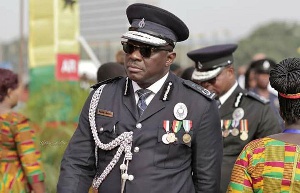 The committee set up to investigate the violence that erupted during the Ayawaso West Wuogon by-election has been tasked by the Inspector General of Police, David Asante Apeatu to investigate both professional and criminal conduct of the personnel involved in the incident.
According to a police statement signed by Director General of Police Public Affairs, ACP David Eklu, and sighted by citnewsroom.com, the committee headed by Deputy Director General of Police CID, ACP George Tweneboah, also has personnel from three other police departments.

There has been a public outcry over the inability of state authorities to deal with political vigilantism despite its implications for national security.

The Ghana Police service also disclosed that a total of 16 victims affected by the shooting incident have given the police their statements to assist with the investigations.

The Police also revealed that a statement form has also been issued to Ningo-Prampram MP, Mr. Samuel Nartey George, who was assaulted by some security officials, for his side of the story.

"The Inspector-General of Police has expanded the committee tasked to investigate the Ayawaso West Constituency by-election shooting incident to cover the professional as well as criminal conduct of those involved in the incident," the statement added.

The Police also in the statement acknowledged the concerns raised by the Minority in Parliament and some section of the public as well as some civil society organisations and security analysts calling for a thorough investigations to be conducted by the CID to ensure the culprits behind the Ayawaso West Wuogon violence are made to face the full rigours of the law.
"The Police administration wishes to assure that it has taken notice of concerns raised by members of the public, Parliamentarians, Statesmen and reputable organisations among others and that thorough investigation will be conducted in line with the ongoing transformation agenda of the Police service aimed at ensuring the highest professional standards in the Ghana Police service," the statement added.

The Police also urged the public with any viable information on the violence to report to the nearest police station or alternatively reach the police on 0244623866 and 024282863.

MP for Ningo-Prampram, Sam George and some NDC party members were beaten by National Security personnel last Thursday during the by-election.

The Minority in Parliament marched to the police headquarters in Accra on Tuesday to put pressure on the police to immediately arrest the armed security men who unleashed mayhem on civilians at the by-election.