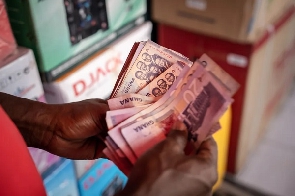 Ghana's currency is poised for one of the strongest rallies globally after the country's US$3 billion pact with the International Monetary Fund (IMF) gave investors hope it can climb back from last year's debt crisis.
The cedi was the best performer worldwide against the dollar in the runup to the IMF deal, which was sealed mid-month. That was the latest in a series of violent swings since Ghana unilaterally suspended payments on most of its external debt in December.

The currency ended the month of May with a 5.3% advance, the fourth-biggest of about 150 currencies tracked by Bloomberg.

The hope now is that the IMF program helps the nation to bolster its finances and work its way toward regaining access to global markets. The deal, which includes an immediate disbursement of US$600 million, was approved after the country completed the first part of a domestic debt exchange program.
"I see the cedi regaining stability with a predictable trajectory," Courage Boti, an economist at GCB Capital in Accra, said. At the same time, the gains may be set to fade after the initial jump this month, he said.

The nation's dollar securities have also outperformed in May, handing investors a return of 7.2% compared with the average loss of 0.8% for emerging and frontier peers in a Bloomberg index.

"Multilateral support should help stabilize FX reserves and the authorities have committed to ending Bank of Ghana financing of the government deficit," said Samir Gadio, head of Africa Strategy at Standard Chartered Bank. "This may help anchor the cedi in the coming months."