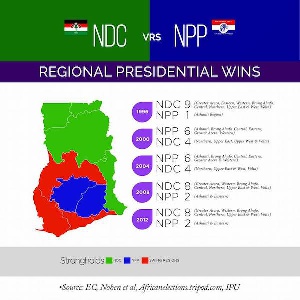 Sat, 19 Nov 2016 Source: IMANI
Since the 1996 presidential elections to 2012, key regions have played central roles in determining the president of Ghana. During the 1996 presidential elections, the NDC won 9 out of all 10 regions except the Ashanti Region which the NPP won massively.
However, in 2000 and 2004, the NPP turned the tables down to win 6 out of 10 regions consecutively.

The regions were : Ashanti Region, Eastern Region, Western Region, Central Region, Bring Ahafo Region and Greater Accra Region. The NDC won only in the Upper East and West, Volta and Northern Region consecutively as well.
But in the 2008 elections, the NDC came back strongly to win 8 regions out of all 10 and repeated the same feat in 2012. They won the Greater Accra, Northern, Central, Western, Upper East, Upper West, Volta and Brong Ahafo Regions. The NPP won only in the Ashanti and Eastern Region consecutively.


Source: IMANI