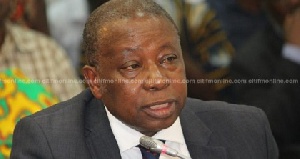 The Inactivated Polio Vaccine (IPV) has been launched and kick-started in the Eastern region with a call on mothers to send their babies from 14 weeks to the nearest child health centres to be immunization.
The IPV is a new vaccine introduced into the routine immunization system to augment the current Oral Polio Vaccine (OPV), as an intensive effort to end polio cases in Ghana.

The current OPV given orally has been used in Ghana since 1988 and is widely acclaimed to have been very successful in achieving the 99 percent eradication mark against polio in the country.

According to Dr Albert Antobre Boateng, Acting Regional Director of Health, who launched the programme in Koforidua, the IPV "is safe, more expensive, gives more protection and is widely used by the rich world".

He said currently Ghana had 99 percent polio eradication and the introduction of the IPV was to strengthen the immunization exercise to achieve the 100 percent target, noting that since 2008, Ghana had not recorded any polio case.

Dr Emmanuel Kaitoo, New Juaben Municipal Director of Health, explained that interventions like immunization have proved very effective over the year in Ghana against several childhood diseases such as Polio and Measles.
Dr Kaitoo observed that measles has been a very clear indication of the effectiveness of immunization of children under 5, since it had been wiped out from Ghana and assured parents that the new IPV, which was in an injection form, was safe for their babies.

The Regional coordinator of the Expanded Programme on Immunization, Mr Richard Essen said Afghanistan, Pakistan and nearby Nigeria were still polio endemic countries and therefore, even countries like Ghana that have made remarkable strides in polio eradication still remained in danger.

He said it was for that reason that all mothers should ensure that their children under 5 years were immunized especially that of the IPV to boost the immunity as well as meningitis at age 18 months.

Esther Mafoa, a 14 week old baby girl was the first to receive the IPV on the thigh in the Eastern region on June 1.