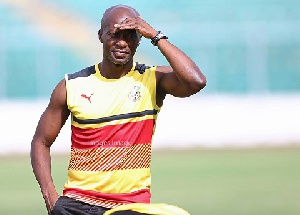 Assistant coach Ibrahim Tanko has taken a swipe at some Black Stars players he thought did not have the right attitude in Saturday's shock 1-0 defeat to Kenya in a 2019 Africa Cup of Nations.
Ghana were down by a first half own goal scored by defender Nicholas Opoku at the Kasarani Stadium in Nairobi.

The team created several scoring chances but lacked the cutting edge to get back into the match.

''Honestly speaking I am very disappointed in some of them because they played like there's nothing at stake,'' Tanko told Joy FM in an interview.

''If you saw the body language of some of them players, it's very very bad so I think we as the technical team will also have to watch the game again and we have to talk to them.
''Because we have to let them know that this is the national team, it's for all Ghanaians so if you think you can come and do what you want and go and expect us to call you again there's nothing like that.

''Everyone will have to prove himself that we wants to play with the national team.''

Despite the defeat, Ghana still remained top of Group F with better goal difference after Ethiopia beat Sierra Leone 1-0 to leave all teams tied on three points apiece in two matches.