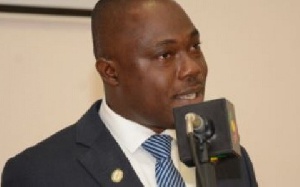 Political Science lecturer Prof Ransford Gyampo has said if the court of law prescribes capital punishment through public execution as punishment for the killers of Major Maxwell Mahama after due legal process is gone through, then so be it.
"Those who killed my student are soon going to attract public sympathy. Capital punishment is still in our statute books. Let the due processes be expedited and those who deserve punishment be punished. If it means public execution as prescribed by law, so should it be," Prof Gyampo who taught both the deceased and his widow at the University of Ghana, wrote on his Facebook page.

The deceased Captain, who was posthumously promoted to the rank of Major by President Akufo-Addo, was lynched by the people of Denkyira-Obuasi in the Central Region on suspicion that he was an armed robber.

He would be buried on Friday. Prof Gyampo said although he cannot be at burial ceremony because he cannot bear the pain of seeing his former student get interred, he would "join his teaming classmates in participating in the 'Justice For Mahama Walk'."

He also said a replica of the national monument that would be built in honour of the fallen soldier must be mounted in the town that killed him – "the only town where women have no sympathy and can play active role in killing a human being like 'beela'. This would help them remember the dastardly act and may be help them reform."

Meanwhile, Prof Gyampo has commended President Nana Addo Dankwa Akufo-Addo for instituting a GHS500,000 Endowment Fund for Major Mahama's widow and children.

According to him, this fund will support the family in paying for their accommodation, medical bills as well as the education of the two children.
President Akufo-Addo announced the GHS500,000 trustee fund on Monday June 5 when he visited the bereaved family. He personally pledged to donate seed capital of GHS50,000 for the fund

"550,000 Cedis seed Fund for Major Maxwell Mahama, commendable. President Nana Addo, good show."

"Let's do the calculations and divisions conservatively here: The military would shortly kick Mrs Mahama, the widow out of her residence because her husband is no more. The widow and the kids need accommodation of their own. Given that Major Mahama died on duty and has been described by the President as a National Hero, can part of this money be used to secure at least a three-bedroom accommodation for the wife and kids? I can see where the painful loss of a father and husband would really originate. Soon after the burial on Friday... Government must act fast in securing accommodation even before they are kicked out of Burma camp.

"How much would be left? Would it be enough to provide education, upkeep, and medical bills for the kids in particular from now till they are done with University? I respectfully urge all to donate to the Fund. I would donate. You too don't merely sympathise on Facebook and shirk your responsibility. Go and donate some. All other Funds set up by individuals should be harmonised into one Fund and possibly paid into what the Government has set up. This Fund must be secured to the full and access to it by the widow and kids must not be subjected to needless bureaucratic bottlenecks."

He added: "To those of you who have issues with the role I am playing in caring for the immediate family of my beloved student, all I say is may you not die and leave your wives and kids behind. In my life, I have encountered several young women who lost their husbands shortly after marriage and I know how they live now. I know their pain and agony. This is what I am trying to prevent, so my student can sleep well and Rest In Peace."