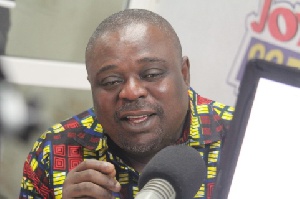 A Deputy General Secretary of the opposition National Democratic Congress (NDC), Koku Anyidoho has lambasted President Nana Addo Dankwa Akufo-Addo for making claims that the recently inaugurated Wa Water project was conceived and started under the erstwhile Kufuor administration.
Commissioning the water project this week, the president said $51.5 million Jambussi water project constructed with a facility from the Korean Exim Bank, to supply 3.3 million gallons of water per day to the 100,705 residents of Wa, was initiated under Kufour but stalled under the previous government [NDC].

But Koku Anyidoho speaking to Kwame Tutu said the NDC had been at the forefront of the project since its inception and deserves to be commended following the completion and recent commissioning.

He emphasized that if the president cannot commend the NDC, he should not lie to the public.
The president must stop lying, he added. He said, governance is a continuous process and a government will come and go but the development of Ghana should be our topmost priority…We are not begging the president to give us any commendation but lying to Ghanaians is what we are worried about.

If you do not commend us, the records are there in parliament and it is very clear that the contract was signed between the Republic of Ghana and the Korean Exim Import Bank in 2012.