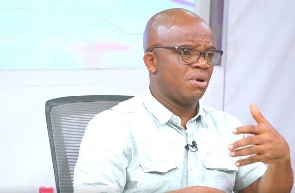 The Member of Parliament for Nhyiaeso, who doubles as the Deputy Minister for Trade and Industry, has rejected assertions that the Minister of Finance, Ken Ofori-Atta, has failed in his role.
According to Dr Stephen Amoah, Ghana's economic challenges are largely due to external factors and anybody who says otherwise is not being truthful.

Speaking in a TV3 interview on Friday, May 19, 2023, monitored by GhanaWeb, Dr Amoah added that if Ofori-Atta has failed as finance minister then the whole world has failed.

"If he (Ofori-Atta) has failed then the world has failed, very simply. When you say this and people will say you are comparing Ghana to one country. I don't believe in that. I believe in comparing a country to continental or global performance.

"Giants economies that we even depend on such as the UK, US and the Asia countries (are suffering). I came from the UK on the 16th of last month (April), their base rate (government interest rate for banks) has been increased by 1600 percent (from 0.25 to 4.5 per cent) post-Covid… their inflation rate is at a 40-year high.

"Within a period of about three months, nurses, doctors, teachers, aviation workers, magistrate court workers, and railway workers have all had union strikes. A lot of things are going on even in the countries we depend on," he said.

He reiterated that the economic challenges in Ghana now are as a result of global challenges and not mismanagement of the economy as being asserted by some factions in the public.
Meanwhile, watch the latest episode of SayItLoud on GhanaWeb TV below:







IB/OGB