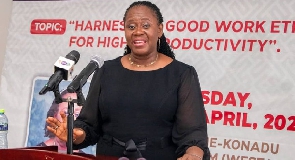 Chief Justice Gertrude Torkornoo has urged Ghanaians to ignore persons who ask them for money meant to induce judges when they have cases in court.
According to her, judges are mostly unaware of these supposed brides because there is a lot of corruption around them.

Speaking in a video shared by UTV from an event held on Monday, August 7, 2023, the chief justice urged Ghanaians to record persons who asked for brides in the justice delivery system and call them thieves.

"If a court recorder asks for money to be given to a judge ignore him, tell the person that he or she is a thief.

"Even if a lawyer tells you to give them money to take to a judge, tell the lawyer that 'I'm ashamed of you, you should not be doing this'.

"And even worst is if a judge is asking for money, after giving the money, take a picture and tell the person you are ashamed of him or her," she said in Twi.
Justice Torkornoo added that Ghanaians hurt themselves when they give money to be sent to judges because their victory in court cases can be turned into losses when the cases are appealed.

"Because if the other side appeals, it is easy for what you thought you have won to become a loss," she added.

Watch the CJ's remarks below:


Sending money to a judge might seem like a victory, but in the long run, you're the loser - Chief Justice, Justice Gertrude Torkornoo#UTVNews pic.twitter.com/ZUAqIK7ANG

— UTV Ghana (@utvghana) August 7, 2023
BAI/NOQ


Ghana's leading digital news platform, GhanaWeb, in conjunction with the Korle-Bu Teaching Hospital, is embarking on an aggressive campaign which is geared towards ensuring that parliament passes comprehensive legislation to guide organ harvesting, organ donation, and organ transplantation in the country.

You can also watch the latest episode of Everyday People on GhanaWeb TV below: