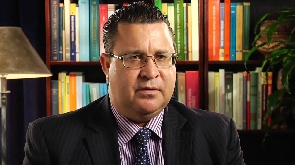 If it becomes necessary the World Bank will provide support for Ghana to ensure food security, the Country Director of the World Bank, Pierre Frank Laporte, has said.
Answering a question as to whether the Breton Wood institution will help Ghana ensure food security, while speaking on the Sunrise show on 3fm 92.7 hosted by Alfred Ocansey, he said : "If need be yes."

Touching on the impact of the COVID-19 on the tourisms sector of the Ghanaian economy, Mr Laporte stated that the World Bank is now finalizing money for Ghana's tourism.

World Bank will be meeting with officials of the Ministry of Finance next week to finalise the agreement, he recealed.

There were reports in a section of the Ghana media that the World Bank had given Ghana $14 million to revamp its tourism sector, following the impact of coronavirus on the sector.

However, Mr Laporte said no figure had been given.
"The work is ongoing. No figure has been given yet. This is a project that had some activities planned," he told the host.

He added: "We asked the Ministry of Finance to look at this tourism project and the Ghana Economic Transformation project.

"But I cannot tell you now [about the figure] because the work is still ongoing. We will be finalizing this with the Finance Ministry next week."

Finance Minister Ken Ofori Atta told Parliament on March 30, 2020 in the budget presentation that the global trend in the cancellation of flights, closure of borders, and the need to maintain social distancing, including the ban on public gatherings, are having huge negative impacts on economic activities in the hospitality industry.

Among the worst hit areas are hotels, airline business, tourist sites and attractions, and car rental services. Hotel occupancy rates are down from 70 per cent to under 30 per cent and staff are being sent home.
"Even before the impact of the lockdown, restaurants were already experiencing an average drop in patronage of 60 per cent.

"Scheduled international conferences in Ghana cancelled include the 4th African Union Specialized Technical Committee (STC) on Finance, Monetary Affairs, Economic Planning and Integration meeting and the G24 Technical meetings, which were programmed in early March 2020, resulting in a loss of 1,000 combined participants and therefore a loss in 1,000 hotel beds.

"Transportation services have been among the worst hit due to social distancing, closure of schools, and ban on public gatherings."