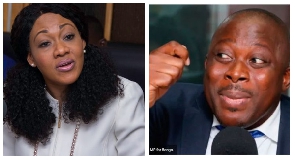 The Member of Parliament for Bongo in the Upper East Region, Edward Abambire Bawa, has sent a stern warning to the Chairperson of the Electoral Commission, urging her to reconsider her push for the Ghana Card to be used as the sole form of identification for the registration of new voters. 
The lawmaker said that the decision of the elections management body may result in strife since many people will be adversely affected, which situation, according to him, would also disenfranchise many from voting in the 2024 general election.

Speaking on the floor of Parliament on February 28, 2023, the lawmaker indicated a similar instance in the neighbouring Ivory Coast whereby some citizens were segregated for being non-citizens, which he claimed created mayhem.

"Mr Speaker, on election matters, consensus is key. Côte d'Ivoire is just nearby. By virtue of the fact that laws were passed to create the impression that others were not citizens, it created problems in Côte d'Ivoire.

"Afari Gyan handed over to Charlotte; Charlotte gave it to you; this country was in one piece. If this country goes to war because of this, it will be on your head," he cautioned.

The Speaker of Parliament, Alban Sumana Bagbin, however, ordered that the specific statement be retracted and removed from the hansard.
The MP subsequently retracted the statement. 

Jean Mensa appeared before parliament on February 28, 2023, over the proposed Constitutional Instrument (CI) her outfit brought before the House.

Her appearance comes after the Speaker, Alban Bagbin, summoned her to appear before a committee of the whole.

The newly proposed instrument by the EC will make the Ghana Card the only identification document to be used to guarantee citizenship once it is passed.

Watch the latest edition of BizTech and Biz Headlines below:




Watch the latest edition of Business Moments below:




You can also watch this episode of People & Places here:



AM/SARA