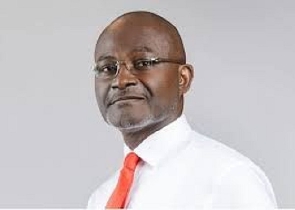 Kennedy Agyapong, a presidential aspirant hopeful of the New Patriotic Party, has threatened to spill secrets about the party that will spell the end of the party.
In an interview with Sompa FM, Kennedy Agyapong claimed that there was a plot by the government to collapse his companies.

He sounded a word of caution to the party if the persons deployed to cripple his companies are not withdrawn, he will embark on activities that will also kill the party.

"You are going there because Kwame Agyapong is a loudmouth. You want to collapse my companies because I want to contest. I'm being nice and charitable to the NPP but they shouldn't dare me. Anybody who tries to kill my companies because I'm contesting for elections, I will kill the party.

"The things I know and will say will kill the party. I've gone through a lot from January till date but I've been very nice. If you want to collapse my company because of one person then I will also kill the company. I'm not afraid of anyone," he fumed.

Kennedy Agyapong is hoping to lead the NPP into the 2024 election with a campaign to instill discipline and fight corruption.

The New Patriotic Party (NPP) flagbearer hopeful weighed in on the recently published Auditor-general's report that pointed to fraud and impropriety in spending of COVID-19 funds.
"The performance of NPP during the COVID, I am not holding brief, we have made some mistakes that we all have to accept and I will be the first person to accept," he said on Metro TV's Good Evening Ghana program earlier this week.

"But if you compare the two governments, Akufo-Addo and Mahama, Mahama is not an alternative to Ghana because the man has been fortunate to succeed Atta Mills for two years," he stated stressing that he has no justification to seek a final term in office.

When pushed by host Paul Adom-Otchere about Mahama's claim that the NPP was corrupt, Agyapong responded: "NPP is corrupt, NDC is corrupt, that is why you have Kennedy Agyapong coming in."

When he was reminded that he was an NPP man, he replied: "I am a disciplined NPP (member)."



KPE