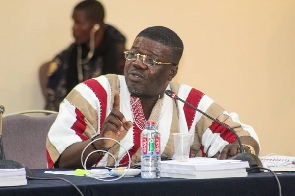 National Democratic Congress (MDC) Member of Parliament (MP) for South Dayi Nelson-Rockson Dafeamekpor has spoken about the insistence of President Nana Addo Dankwa Akufo-Addo to complete the National Cathedral of Ghana project.
According to him, if former president John Dramani Mahama had done same amid an economic meltdown, unnamed actors would have descended on him.

His views were contained in a January 3, 2022 tweet which read: "I pray for a Ghana where a National wrong is not determined by origin & political colouration of the doer.

"Just imagine JM as Prez insisting that whether we like it or not, he'd use our taxes to build a Cathedral in the midst of an economic crisis created by him?"

The tweet came on the back of Akufo-Addo's recent statement that the facility will be built when he attended a programme at the site of the Cathedral earlier this week.
Akufo-Addo donated GHC100,000 as part of his commitment to see to the completion of the project by the 2024 deadline.

So far, about GHC340 million of public funds has been pumped into the project with Parliament recently rejecting GHC80 million budgeted for the project in 2023.


I pray for a Ghana where a National wrong is not determined by origin & political colouration of the doer. Just imagine JM as Prez insisting that whether we like it or not, he'd use our taxes to build a Cathedral in the midst of an economic crisis created by him? Just imagine

— Rockson-Nelson Dafeamekpor, Esq. MP. (@etsedafeamekpor) January 3, 2023
SARA