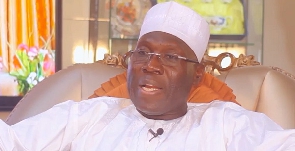 Former Member of Parliament and lawyer, Inusah Fuseini, has strongly advocated for the impeachment of President Nana Akufo-Addo, citing his alleged breaches of the Constitution.
Fuseini's comments came in response to the recent Supreme Court ruling, which declared the President's decision to compel former Auditor General Daniel Domelovo to go on leave as unconstitutional.

According to the former Tamale Central MP, President Akufo-Addo's actions constituted a fundamental violation of the Constitution and a breach of his presidential oath.

He insisted that presidents should face prosecution when their actions defy the Constitution or their sworn duties.

"He must suffer the penalty for that. Until we begin to hold our presidents accountable, and not give excuses for their acts of impunity, then we are not going to make progress. That's why I don't think that this decision [Supreme Court's ruling] must be prospective," he noted while speaking on Newsfile on Saturday.

He further stressed that the Supreme Court's ruling should not be limited to future cases but should also be applied retroactively.

Fuseini argued that the President acted deliberately and recklessly when he forced Domelovo to take leave, despite being aware of the potential unconstitutionality of his decision.
The former MP who was speaking as a guest on JoynewsFile believed that impeaching the President was necessary to deter future leaders from acting with impunity.

However, fellow panelist and former Deputy Attorney-General Joseph Dindiok Kpemka disagreed with Fuseini's assertions. Kpemka contended that President Akufo-Addo did not act willfully but rather exercised his executive power granted by the constitution when he wrote the letter requesting Domelovo's resignation.

Kpemka highlighted the importance of following precedents in governance, stating that at the time of writing the letter, the President believed he was acting in accordance with the constitution, despite later legal invalidation.

"Can you prove that the President was deliberate and willful when writing the letter, knowing that it was unconstitutional?" Kpemka challenged Fuseini's position. He also argued that he did not consider the President's actions as grounds for impeachment, as they were undertaken in the best interest of the country.

GA