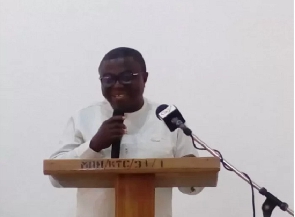 The Acting Deputy Chief Executive of Maintenance at the Ministry of Roads and Highways, Ing. Lawrence Lloyd Lankwei Lamptey, has revealed that 30 percent of Ghana's roads are in good condition while 46 percent are in fair condition, and the remaining 19 percent are in poor condition.
He further indicated that the country is lagging in what the Road ministry wants to achieve in 2037 in terms of Road coverage. This, he said, is a result of inadequate funds, which has also led to a drastic reduction in road maintenance works across the country.

Ing. Lankwei Lamptey made this known at a Training programme for Maintenance Managers and Road Area Managers in all the sixteen regions across the country being held in Koforidua, the Eastern Regional capital. Ing. Lamptey added that as a result of delays in the allocation of funds from the government, maintenance work has also been reduced drastically.

On shoddy work being executed by some contractors, he has this to say.

The Eastern Regional Director of Roads and Highway Authority, Ing. Patrick Okoto, on his part, said though it is faced with financial constraints, The Authority is supervising 68 development projects and entreated Engineers in charge of the projects to adopt innovative ways to execute them.
He urged participants to take such training workshops seriously since it provides them with upgrades in their field of work which makes them more efficient.

The Director of Road Maintenance at the Ghana Highway Authority, Ing Maama Sawyerr-Markwei reiterated that the economy is in times of financial scarcity which according to him has made logistics limited in all the regions. This, he said, has also made it difficult for Road Contractors to be on-site thereby impeding the progress of road construction across the country.

During the five-day training, the road engineers are taken through the duties and responsibilities of supervising teams on projects in all regions, geometric designs and interpretation of critical designs, core specification, pavement designs and material selection.