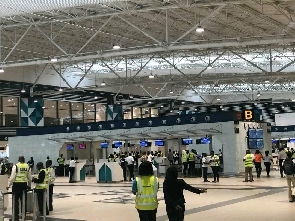 Inbound travel data from the Ghana Tourism Authority (GTA) indicate that the country recorded 247,834 international tourist arrivals in the first quarter of 2023.
The data depict a significant improvement on the 170,696 inbound visitors recorded in the same period last year, and the 98,950 in the first quarter of 2021.

With these trends, the GTA and Ministry of Tourism Arts and Culture are optimistic of surpassing the overall international arrivals record of 914,892 registered last year.

Speaking to B&FT on the stride, Chief Executive Officer-GTA, Akwasi Agyeman, said the country will continue attracting international tourists due to key investments and initiatives being taken by government.

"The Year of Return, Beyond the Return, Visit Ghana and other key projects have yielded positive results, and we are glad that the country has been positioned as home for diasporans seeking to visit and do business in Africa," he said.

The tourism ministry and GTA have set an international tourist arrivals target of 1.2 million visitor turnouts for this year, with an estimated revenue of US$3.4billion against the US$2billion realised in 2022.

The ministry indicated that domestic arrivals for the year 2023 are equally pegged at 1.2 million visitors.
The targets, according to Mr. Agyeman, are achievable considering the current visitor-turnouts and rate at which the tourism year is shaping up.

Truly, Ghana's international arrivals record from 2021 and last year represent a 46.7 percent year-on-year growth, sparking hopes and assurances of a fully-recovered sector after ravages of the COVID-19 pandemic.

In fact, the United Nations World Tourism Organisation's (UNWTO) report on the topic 'Tourism set to return to pre-pandemic levels in some regions' in 2023 stated that Europe reached nearly 80 percent of pre-pandemic arrivals, and Africa and America had 65 percent of pre-pandemic levels.

Ghana's arrivals recovery, which stood at 81 percent, is significantly higher than the African average and around the recovery level of European markets.

"This accordingly shows that the country can do more to attract and deepen the sector's growth and progress," the GTA chief said.

He explained that tourism data remain critical for policy formulation and measuring returns on investment in marketing, promotions and infrastructure.