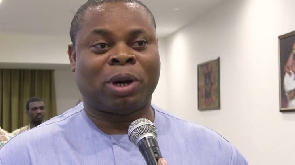 The founder and president of IMANI African, Franklin Cudjoe, has slammed Nana Addo Dankwa Akufo-Addo over his claim that he has "fought a good fight" as president of Ghana and would be rewarded by God for his good works.
In a post shared on Facebook on Monday, September 4, 2023, Cudjoe was bemused by the fact that the president was proud of his record.

According to him, the Akufo-Addo government's performance on the economy is the worst the country has had with just over a year left for him (Akufo-Addo) to leave office.

He said that under Akufo-Addo's presidency, prices of goods and services have continuously skyrocketed and the cost of borrowing has risen to unprecedented heights.

"With 1.5 years left of his tenure, Nana Addo tells us he has finished his race, with the worst economic record.

"So, none in his govt can help reduce killer taxes (50% on imports), inflation 43%, interest rates 45%? Incompetence pro max," the post he shared reads.
What Akufo-Addo said:

Speaking during a valedictory service for Rev. Dr. Seth Kissi, an outgoing Chairperson of Akyem Abuakwa Presbytery of the Presbyterian Church of Ghana, President Akufo-Addo shared his belief that a righteous judgment awaits those who strive for a better Ghana.

"I have fought the good fight, I have finished the race, I have kept the faith. Now there is in store for me the crown of righteousness, which the Lord, the righteous Judge, will award to me on that day not only to me but also to all who have longed for his appearing," he is quoted to have said by onuaonline.com.

He affirmed his faith in Ghana's progress and expressed confidence that the nation's fortunes would improve in the near future.

He then encouraged all those in attendance to share his optimism about the path Ghana is on under his leadership.
"Pray for me and the people I have appointed to various positions with responsibilities that we will continue to exercise our responsibilities with humility and integrity. Pray for Ghana that it remains united in peace and continues to thrive for progress and prosperity."

He added "I urge all of you gathered here to have the same belief that the fortunes of Ghana under His Excellency Nana Addo Dankwa Akufo-Addo will be assured. The battle is indeed the Lord's."



BAI/AW

Ghana's leading digital news platform, GhanaWeb, in conjunction with the Korle-Bu Teaching Hospital, is embarking on an aggressive campaign which is geared towards ensuring that parliament passes comprehensive legislation to guide organ harvesting, organ donation, and organ transplantation in the country.
Watch the launch of the 2023 GhanaWeb Excellence Awards on GhanaWeb TV below:





Click here to start the nomination process for the 2023 GhanaWeb Excellence Awards

Watch Mintah Akandoh passionately call for legislation on organ transplantation on The Lowdown on GhanaWeb TV below:




Meanwhile, watch Etsey Atisu's interview with Fati Ali, the first female GIJ SRC president, on #SayItLoud on GhanaWeb TV, below: